7 Fuentes El Lance 2019
HK$ 213.39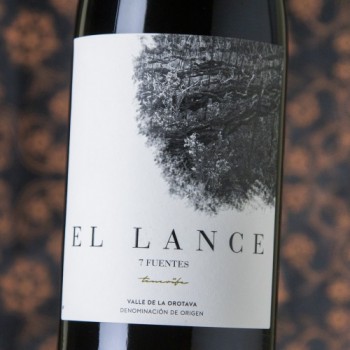 Robert Parker's Wine Advocate
The 2018 7 Fuentes El Lance is a red blend that changes with the vintage. In 2018, it's a blend of 60% Listán Negro, 25% Castellana Negra and the remaining 15% Vijariego Negro, and it comes from different plots from five vineyards—Habanera, Florida, Pencones, Cruz Santa and Diego. It fermented in plastic bins and concrete vats with 20% to 100% full clusters depending on the variety, with indigenous yeasts and without temperature control. It matured in a combination of used 500-liter oak barrels and concrete vats for nine months. This follows the 7 Fuentes profile with a more herbal and peppery twist, possibly from the stems and the varieties. It's peppery and floral with notes of wet pumice stone. It has the austere volcanic minerality on the palate. There is more complexity here than in the 7 Fuentes. 8,000 bottles produced. It was bottled in September 2019.
Features
Description
This is a dry wine with acidic tones but capable of seducing your palate with the smoothness that distinguishes them. The Lance 2019 of Suertes del Marqués is made from the processing of Listan Negro grapes, with the particularity that not all of them come from the same plot and therefore, its flavour is usually very peculiar.

Elaboration

As we have already mentioned, the Listan Negro grapes used to make this wine come from several plots, which are harvested separately. In each of these plots, the vinification process is carried out in open concrete barrels, with strict temperature control.
To achieve the alcoholic fermentation that characterises this type of wine, indigenous yeasts are integrated naturally, for a maceration period that varies between 7 and 30 days, depending on the plot.
Once the alcoholic fermentation process is completed, the wine is placed in French oak vats where malolactic fermentation begins spontaneously. This process can last from 10 to 12 months.
Finally, the product is blended and bottled without filtering.

Taste

Being a wine made with Listan Negro from different plots,its flavour tends to be complex with hints of fruit skin, making it fresh and mineral. You will enjoy its tendency to taste fresh and at the end a brief touch of salinity.

A fruity, young and smooth wine that brings freshness to the palate.

Although 7 Fuentes El Lance is a complex wine, thefreshness it brings to the palate is very powerful, characterising it as young and smooth. This makes it an excellent ally to accompany red meats, soft cheeses, white meats, mushrooms and roasted vegetables.
Undoubtedly, 7 Fuentes El Lance is more than a wine, it is an experience of unequalled freshness.
What is your experience with 7 Fuentes El Lance? Tell us what pairings you have tried it with!

Estimated transit time: 3 working days.
Bottles
Price
Complete box
1-5 bottles
HK$ 127.42
6 bottles, Free shipping!
7-11 bottles
HK$ 127.42
12 bottles, Free shipping!
13-17 bottles
HK$ 127.42
18 bottles, Free shipping!
19-23 bottles
HK$ 127.42
24 bottles, Free shipping!
25-29 bottles
HK$ 127.42
30 bottles, Free shipping!
31-35 bottles
HK$ 127.42
36 bottles, Free shipping!
37-41 bottles
HK$ 127.42
42 bottles, Free shipping!
43-47 bottles
HK$ 127.42
48 bottles, Free shipping!
49-53 bottles
HK$ 127.42
54 bottles, Free shipping!
55-59 bottles
HK$ 127.42
60 bottles, Free shipping!